About us

Established in 2014, iKame was a group of Vietnamese ambitious guys who always dream big. During the 8-year journey, we create a culture of FIRE where we share goals, passion and persistence to success. Even though we face lots of challenges and failures, the ensuing FIRE guides us through all the hardship, then takes us to success after success. Most recently, being honored in the Top 10 Global Studio is the evidence of how the combination of spiritual strengths and strategic mindset can transform a company.
We strongly believe that our strong culture of FIRE, of endless creativity, of strong passion, of a focus on PEOPLE would help us overcome any challenges and conquer whatever goals we set. Go ahead to become the Top 1 Technology Corporation in Vietnam with the Global presence!
Our Slogan is "JUST FOR YOU"
1. With our members: Benefits, rights and development of our members is the number one priority.
2. With products: Users are the most important.
3.With partners: We put the benefit of our partner above all.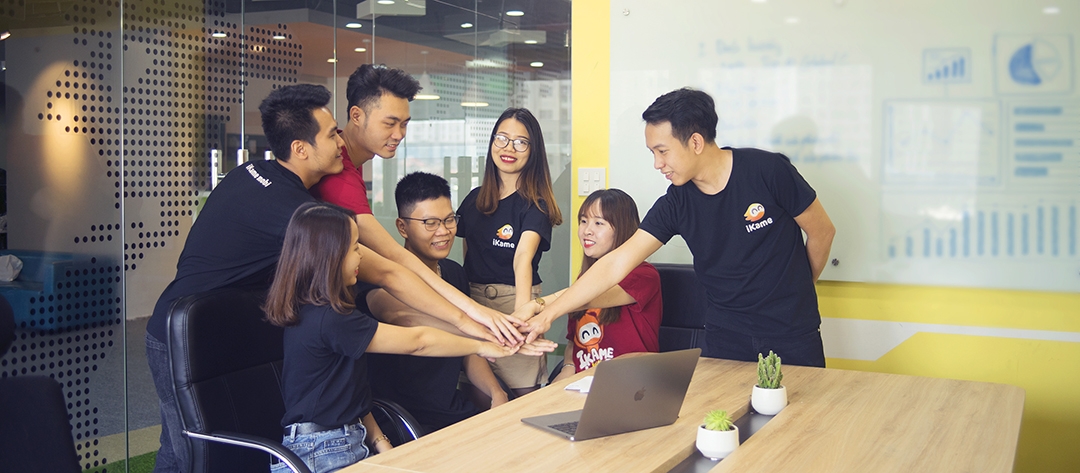 The Vision
Become the Top 1 Technology Corporation in Vietnam with the Global Presence
The Mission
Build & create an environment of innovation and uniqueness which is also meaningful and admirable
Our core value
I - Innovation
We don't base our decision on the old ways of doing
We always seek improvements in all aspects of our work
Say NO to status quo
Welcome all ideas
K - Keenness to level-up
Think big, Do bigger and Aim high
Learn new things everyday
Sharing is learning - we focus on level-up ourselves in order to level up our team and our company
A - Alliance (Togetherness)
We work as a team and succeed as a team
We are aware of and appreciate all members in all positions
We seek collaboration at work
We enjoy shared success
M - self-Management
We take responsibilities for our work
Never surrender to difficulties
We continuously learn from our mistakes & successes
We give & receive contributive feedbacks to assist everyone towards shared purpose
E - Esteem for our People
We respect the individuality
We listen to each other
We debate based on mutual trust
We recognize each other's effort